Laurel.PamRotella.com

The Alleged Weapon of the 9-11 "Hijackers"
[Posted 7 April 2002, Sunday.] This page has several pictures that will take time to load. I apologize for the wait time, but I've reduced the pictures as much as possible without losing a minimum of quality. In the meantime, let me amuse you with a story...

Trinkets and lies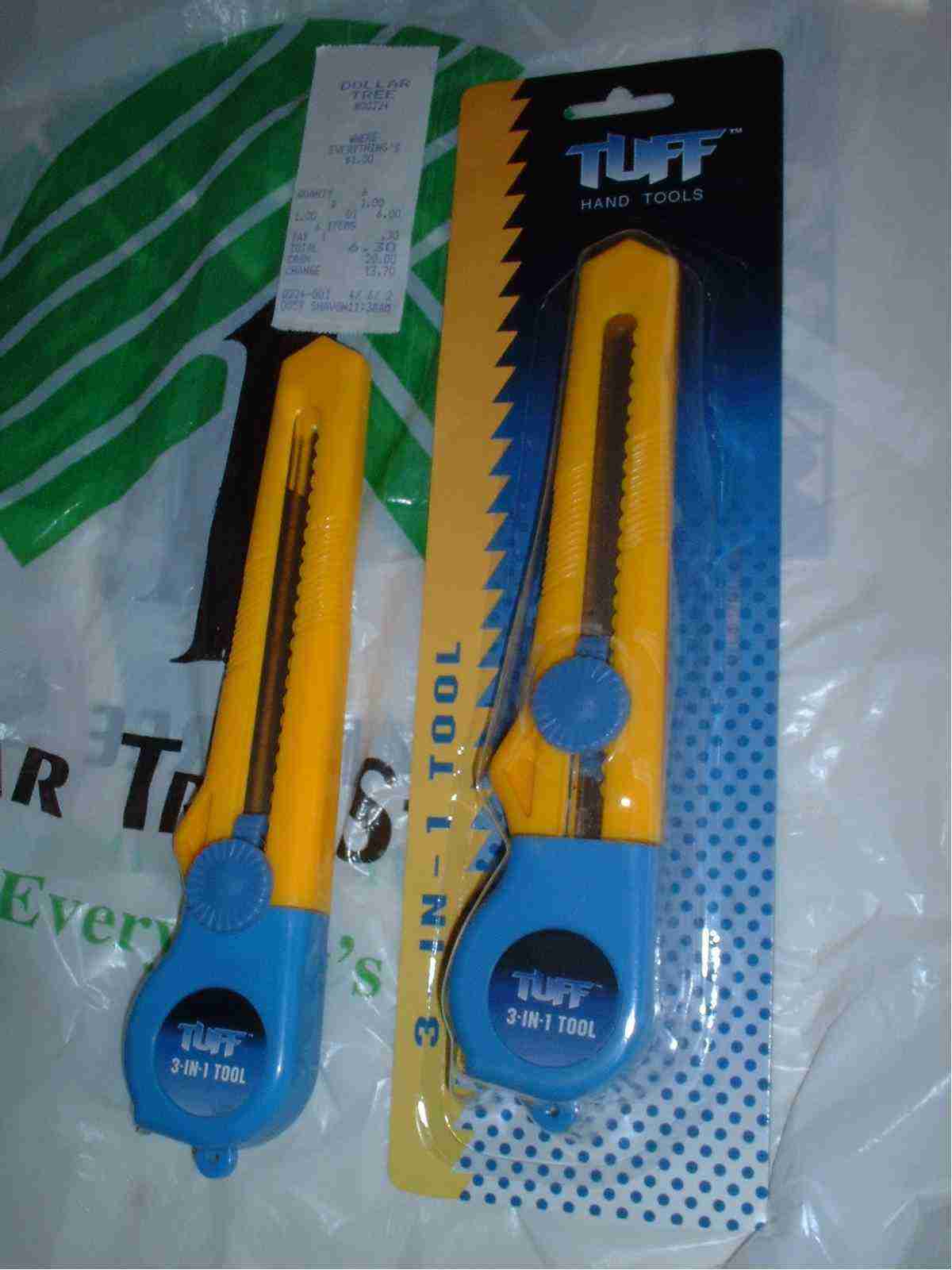 [August 2002 update] Today I don't believe there were any hijackers on 9-11-01. See my page on 9-11 and alternative news services, http://911.pamrotella.com/. When the WTC towers were first hit, I was a bit suspicious of conflicting information, but didn't have the kind of hard facts available now. So my friend's story seemed interesting at first. Now I'm better informed, and realize that the published reports he and his friends used to find the weapons below were nothing more than government propaganda. However, I did go through the trouble of finding the alleged weapons used in that propaganda campaign, so sit back and take a look at trinkets and lies in U.S. history.


The story's source
Occasionally, I'm lucky enough to find a friend who is well read and understands politics and history. Last year, while visiting the Midwest for my job, I met an interesting man who gave me a couple of good books to read. He is a well-traveled "historical tourist". Although I'm more of an outdoors "Grand Canyon" type of tourist, I have a degree in history, and can appreciate people who like to spend their time in historical buildings and on historical battlefields. That doesn't mean that I'm willing to spend my time looking at battlefields, however. (I have driven through Gettysburg and Valley Forge, but could feel the bad Karma as I passed through.)

My friend manages to amass a number of good contacts through his travels and interests. He is an avid reader, and often orients his travels toward sights and people related to books and news stories. He also lived in the Washington, D.C. area for a while, and has a number of contacts there.

Over Easter this year (2002), I again traveled to the Midwest. While there, I stopped by my friend's shop, and he took a little time to chat between customers. At the time, the latest news item was the U.S. government preparing to charge the "20th hijacker" in the 9-11-01 attack.

"This is how I know there wasn't a 20th hijacker"...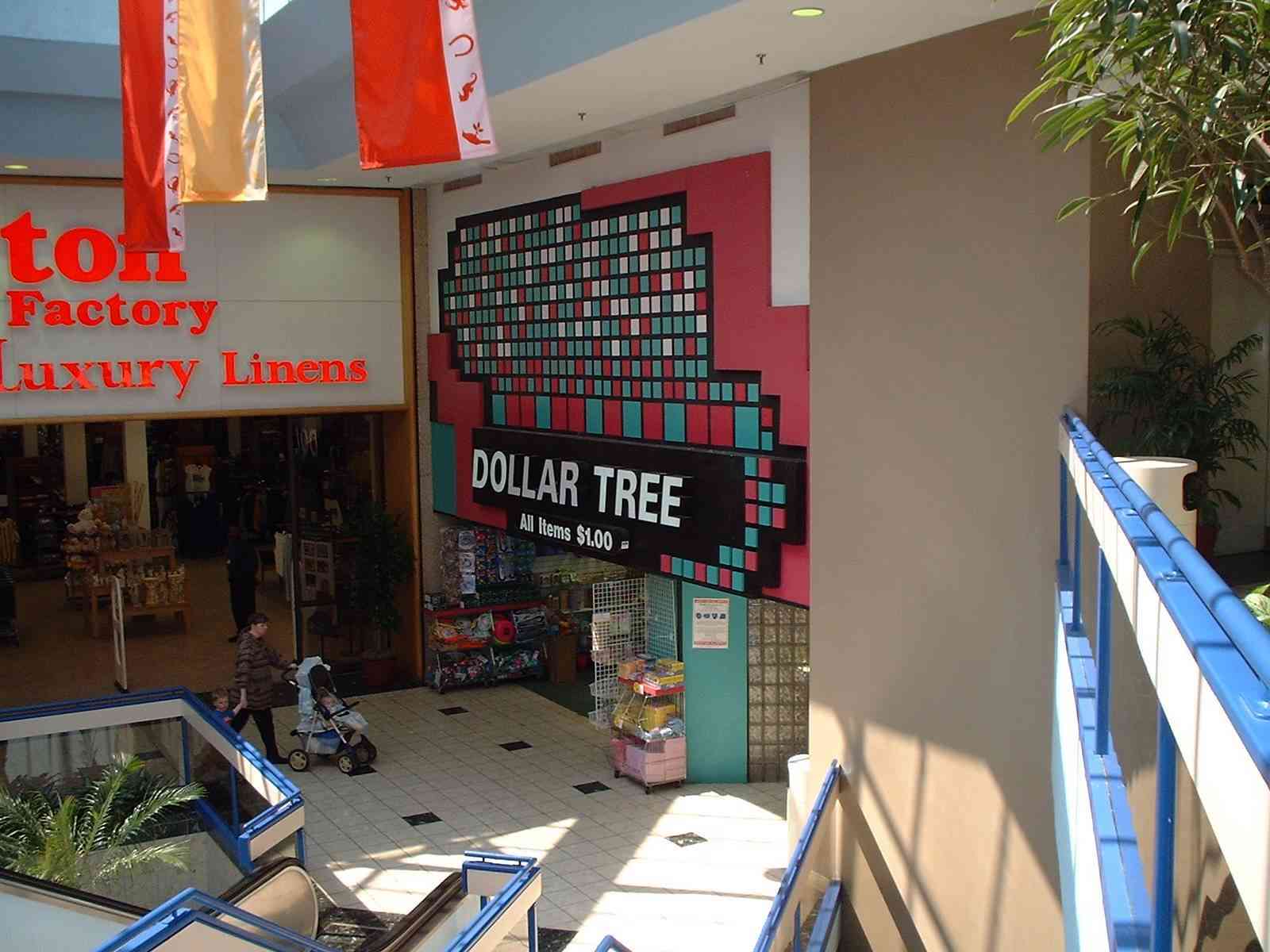 ...my friend told me. "They spent $19.95 on weapons at a dollar store in the Laurel Mall in Laurel, Maryland. I had my friends take me there and show me the weapon" he said. (He seems to have all sorts of contacts who'd give him this information.) "When I bought one, the total came to $1.05 -- $1 plus 5 cents in Maryland sales tax. To spend $19.95 they must have bought 19 of them for $19 plus 95 cents in Maryland sales tax."

This launched him into a tangent that would prove irresistible to a curious woman with a tourism penchant and degree in history (me). "It's quite a tool", he continued. Last year, he'd already told me that it had a ruler on the side, but this time he added "when you open it up, there are two blades". He drew a quick diagram. He said the hijackers must have figured that if one blade broke, the other would finish the job. He also mentioned it was located with the tools in the back of the store.

When I returned to work in our Northeastern office, the distant location and historical items were calling to me. But I had so much work to do! Day after day, I told myself to be patient. When things were slower at work, I could take a break -- not now. This patience lasted for... A FEW DAYS!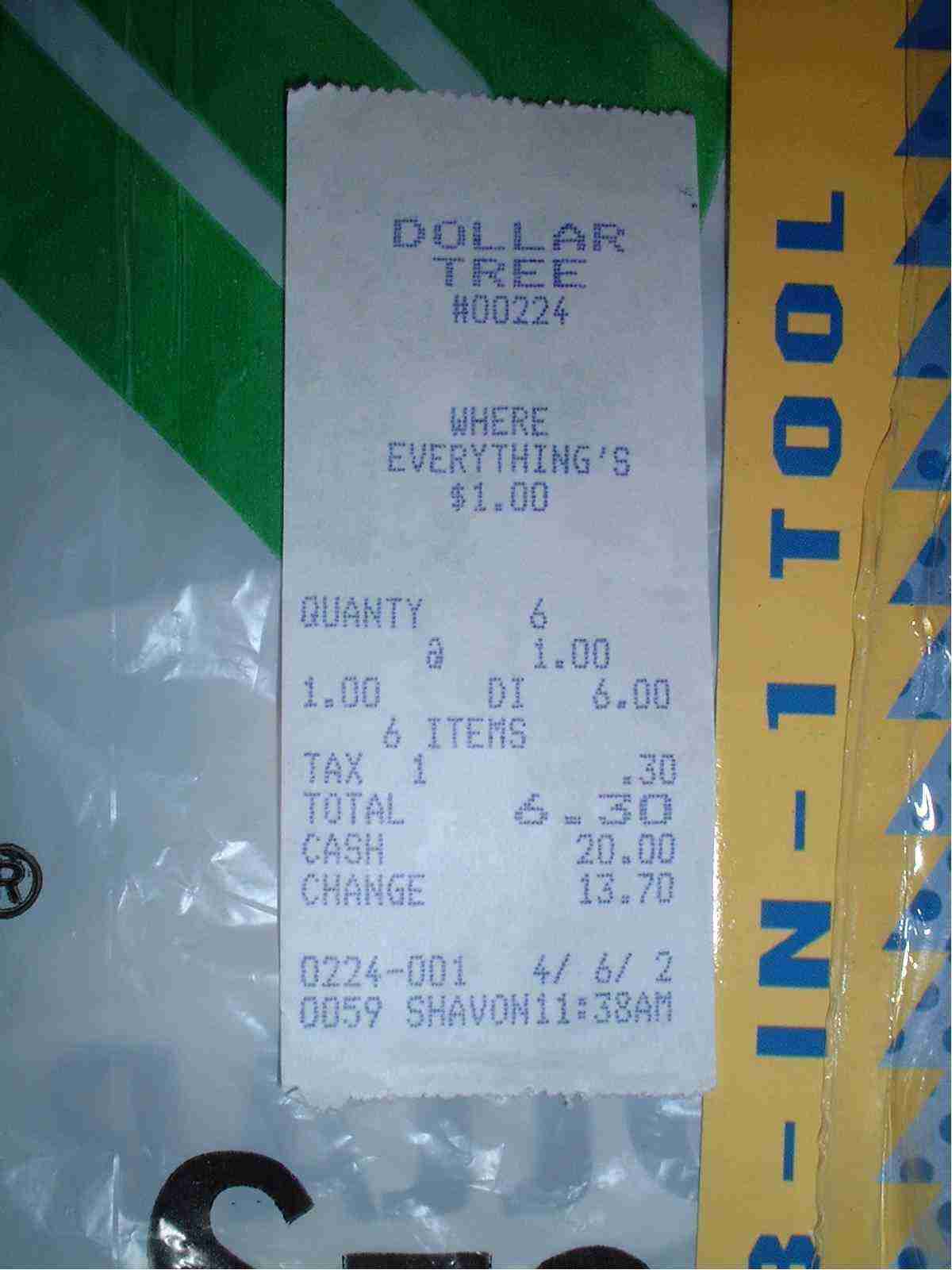 The Saturday after I returned from the Midwest (about 4 days later), when I should have been working at home, I found myself on I-95 South with some printed maps from the Internet. After 130 miles and almost 4 hours (a lot of it on back roads to get to I-95), I found myself in the Washington, DC suburb of Laurel, Maryland. Driving was rough in Laurel -- the streets were narrow and congested, but I found my way to the Mall without a problem. When I arrived, a flirting young man held the door open for me -- I haven't had a 20-year-old flirt with me for about 10 years now, I think. More friendliness guided me to the dollar store when I stopped to ask a lady who kindly told me that the mall's dollar store was at the bottom of the steps behind me. I turned around, and there it was -- The Dollar Tree.

The store was crowded with plenty of cheap merchandise. I made my way to the back of the store, but had trouble finding anything that exactly matched my friend's description. The closest I could find was a yellow box cutter combination called the "3-in-1 Tool", which had 2 blades. It also had a pull-out measuring tape, but it didn't have the ruler on the side, which I thought my friend had mentioned. Also, the blade configuration didn't seem to match the diagram my friend had drawn. But hey, they were only $1 each. I bought the last 4 they had hanging on the wall, along with 2 other items that I could use in the kitchen at home.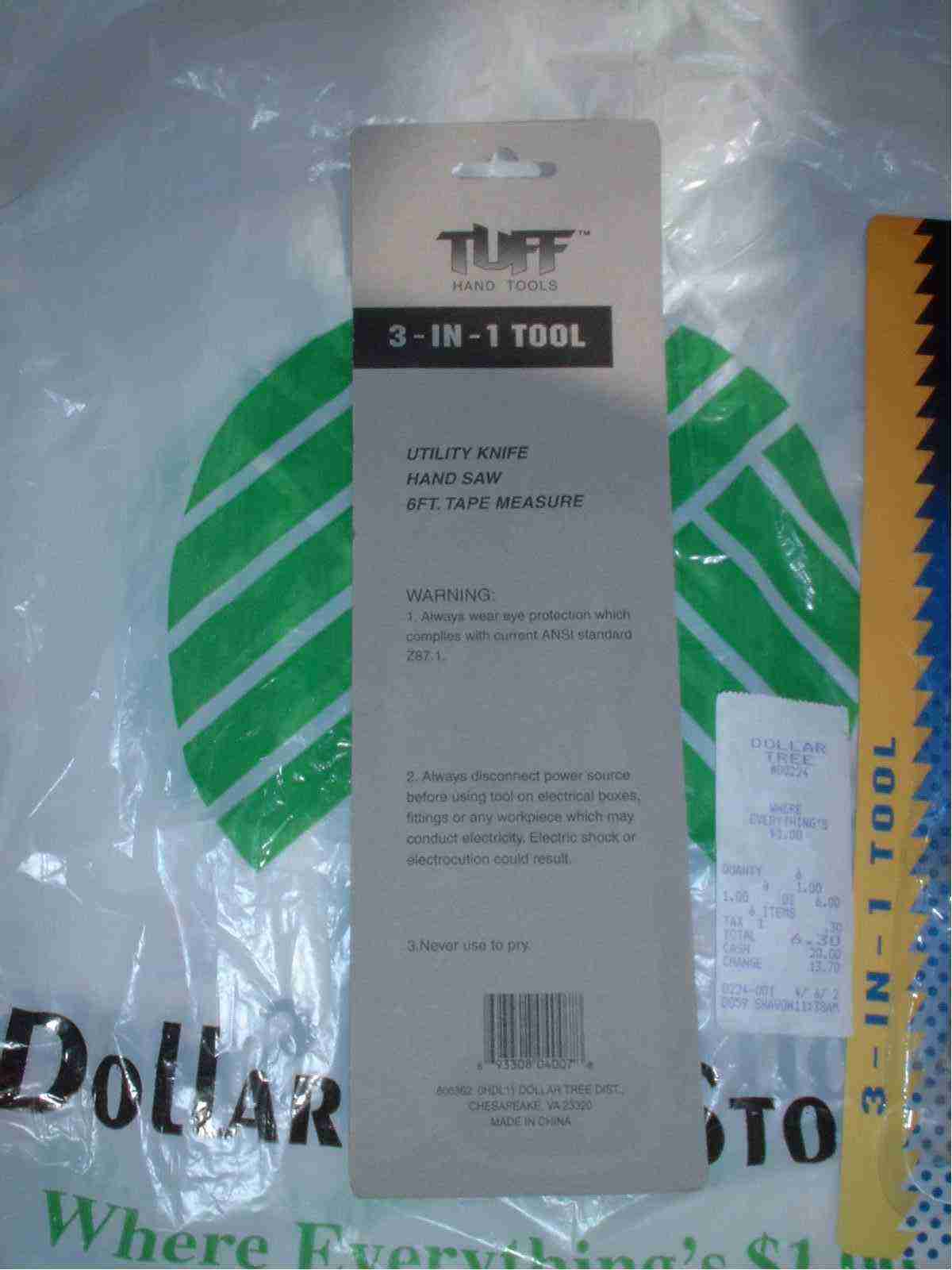 When checking out, I thought maybe the cashier had heard of the weapons. I asked if these were the box cutters that the 9-11 hijackers had used. She gave me a confused look and said she didn't know anything about that. I explained that a friend of mine claimed the 9-11 hijackers had bought their box cutters at that particular store, and the box cutters had a 2-blade design. The clerk looked like I was making her ill, so I just said I was a tourist who couldn't resist the historical items. She double-bagged my new possessions and seemed glad to get me out of there.

I walked outside, sat in my car in the mall's parking lot, and tried to call my friend on his cell phone. I wanted verification that I had purchased the correct item before leaving the area. No luck. He was letting his calls roll into voice mail. I left a voice mail and went on my way, getting lost only once near Baltimore.

After I returned home, I called my friend again, but was transferred into voice mail. Maybe I'd offended him by going to Laurel without calling first. I was working on my computer late at night when I finally received the return call. He seemed happy that I'd gone to the mall. What a relief. I explained that I couldn't resist looking for the box cutters when it was just over the border from me.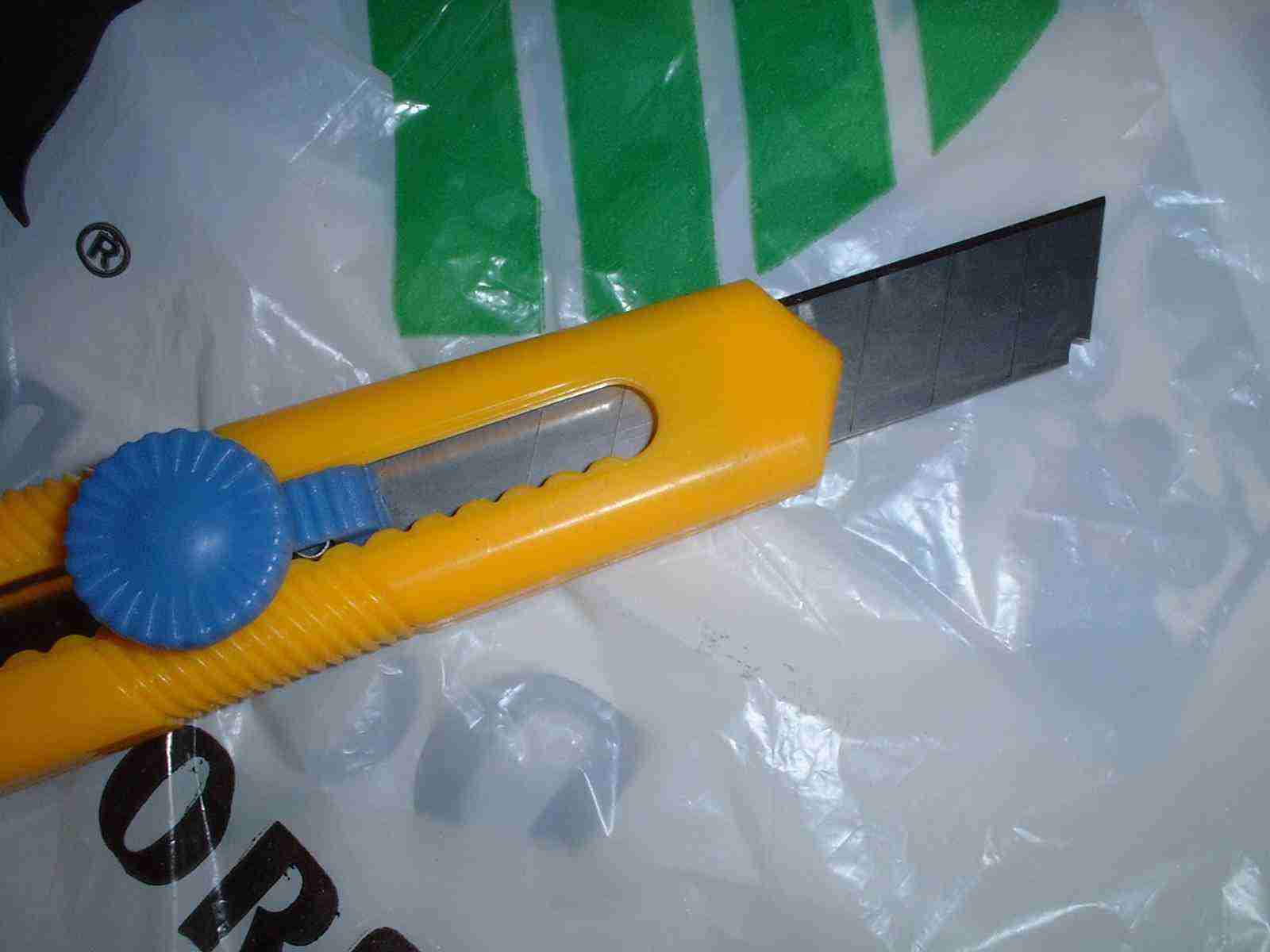 I immediately questioned him about the item he'd bought in Laurel. He started questioning me in return, and it soon became obvious that he was familiar with the tool in my hand. He didn't mean the ruler was on the side of the tool, he said -- the retractable measuring tape was correct. He verified the blades weren't side by side, as I thought he had drawn. They exited the tool parallel to each other, like the one in my hand. He asked me to notice that each blade had a screw to clamp it into position, giving the hijackers a more stable blade position than a standard box cutter. He also pointed out that its design gives a firm grip -- again lending itself to hijacking. Whether he had deduced these characteristics or it had been explained to him, it became clear that someone had put serious consideration into the weapon of choice, either for hijacking or propaganda purposes.

I told him I'd bought the last 4 in the store, and that I'd save one for him. (He had left his box cutter with his friends in D.C.) He was very helpful with my surprise quest for this somewhat obscure item. In the past, he'd said the FBI didn't want to popularize this tool as a weapon, or do any favors for its manufacturer. So the tool hasn't been discussed much in the newspapers.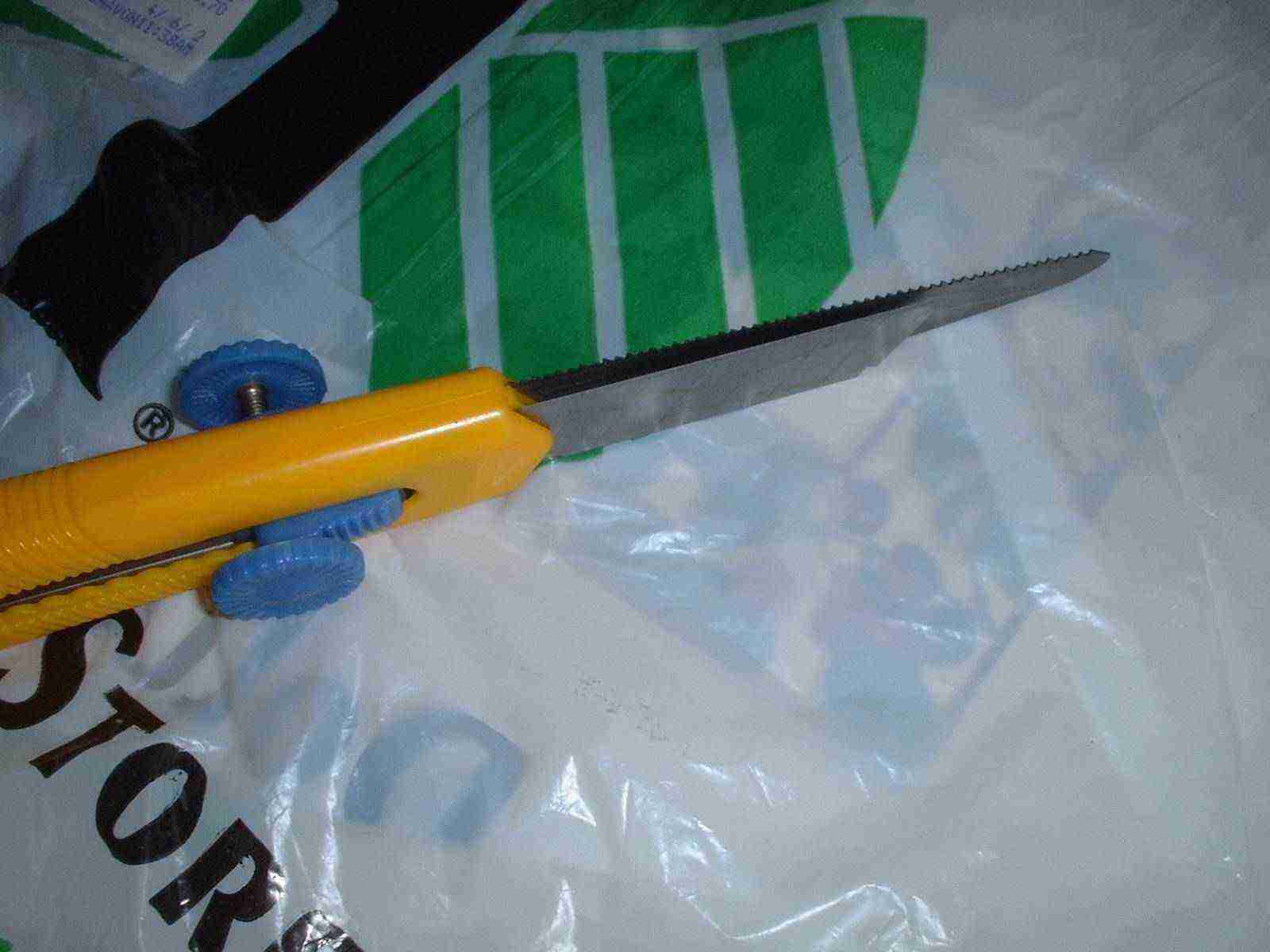 When I hung up the telephone, I wanted independent verification. After all, I have a degree in history, and all I have is one source for this story. And it's a source that wouldn't tell me exactly who his sources were. So I started to surf the Internet for information on the hijackers' weapons. Although I didn't find any information on the weapons directly, I did find some stories linking the "hijackers" to cheap hotels near the Laurel Mall in Laurel, Maryland. If the hijackers actually existed, it would have been a logical choice for them to purchase their box cutters in the area. It would have also been logical for the Washingtonians who fabricated the hijacking story to find trinkets near their homes, instead of traveling long hours to find props for their bogus war stories.

Another friend (in Pennsylvania) wanted me to visit her the next day at her shop, so Sunday I surprised her with one of my new historical objects. She asked me to leave it, not because she wanted a little piece of history, but because she needed a good box cutter. I felt obligated to give her one -- after all I'd only paid $1. So now I'm down to three of them, with a commitment to give one to my friend who led me to the find. That leaves one already opened, to examine and photograph, and one in its original package. So even if a good friend of mine is reading this and wants one, the answer is go to Laurel yourself! I can't even buy another one until (and if) the store restocks the same item. And that's if I'm willing to make my way to Laurel again.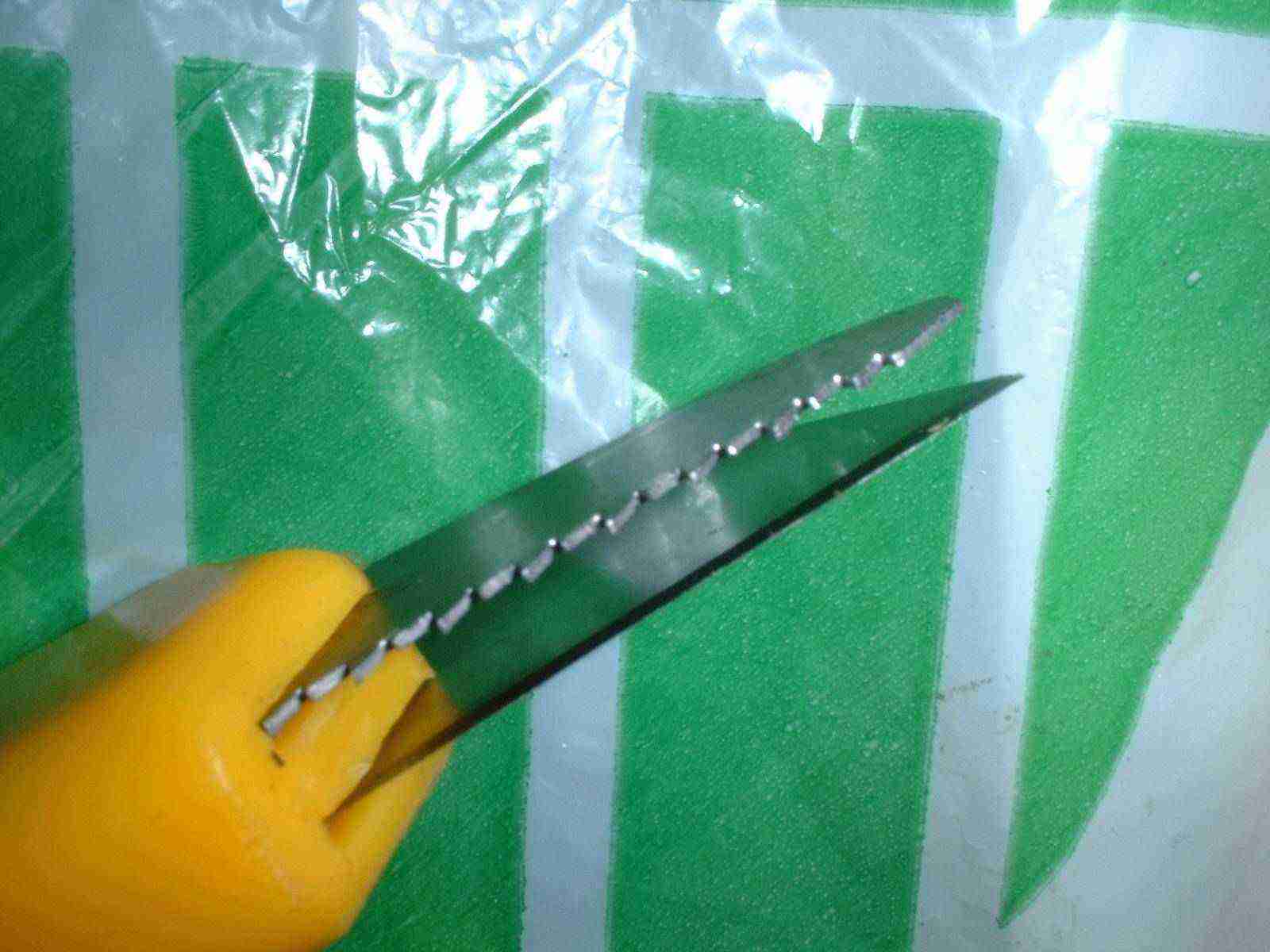 My local friend's husband was at her shop, tinting windows there. He wondered if the hijackers really were able to get something so big, with so much metal, onto the planes. I mentioned that I'd had no problems in the past with a Swiss army knife in my purse, with only one baggage inspector wanting to look at it, then saying it was OK. Things were different before 9-11. I also doubt that anyone inspecting the object could take it seriously -- it's a big yellow plastic thing, and looks too cheap to use as a weapon. It's also a tool, a blade but not really a knife. On the other hand, if it looked that bad to an untrained eye, it probably wouldn't have made it onto the planes, if in reality anyone had ever tried to take it aboard.

Here are some of the quotes I found linking the hijackers to Laurel, Maryland. I don't know if any of the men framed for the crime actually lived there or not: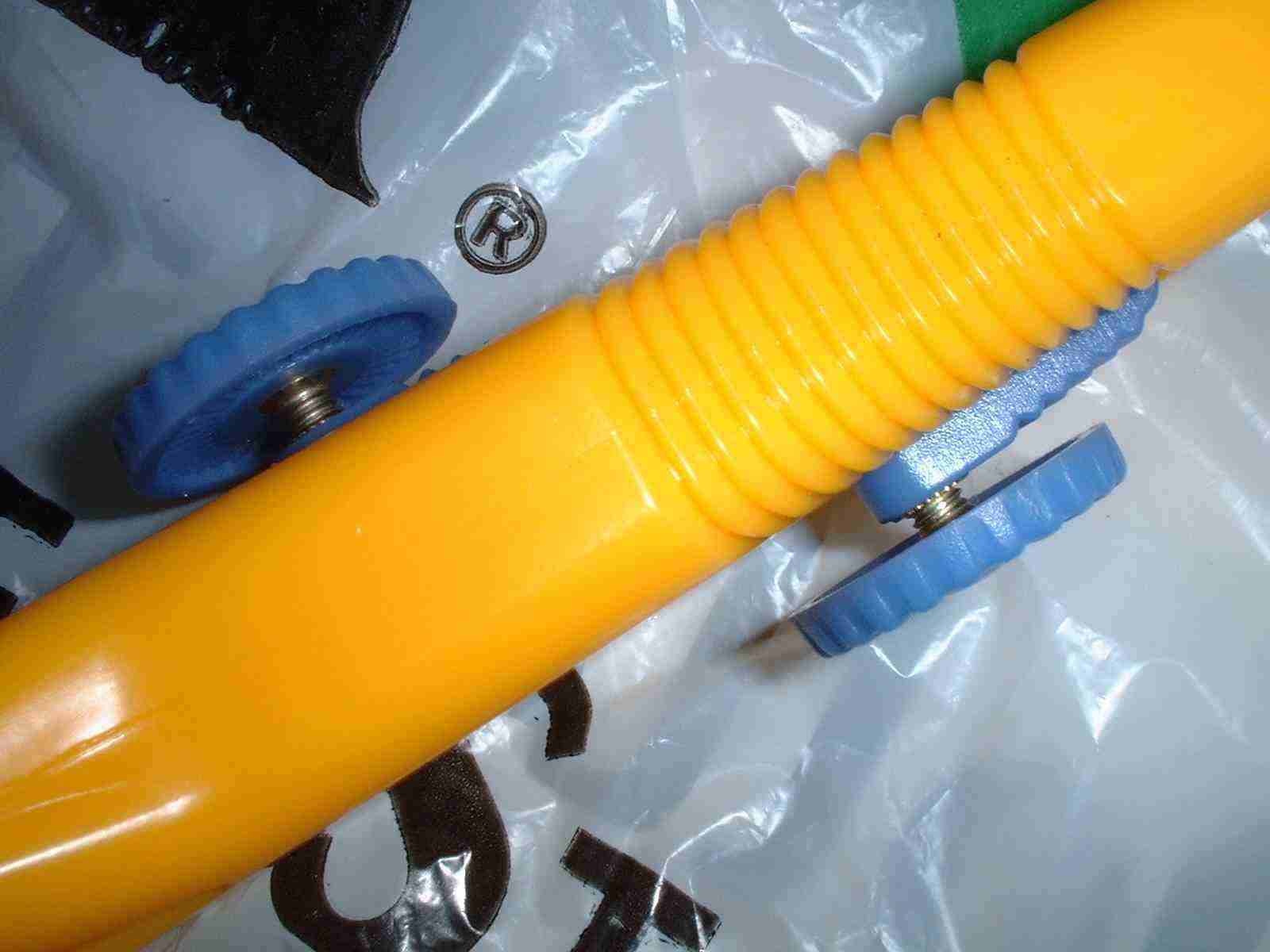 1.) Google.com had a story on the hijackers from CBS news, but when you clicked the live link, the story was gone. However, a cached copy provided the old story, which had the following information:

"Moqued, along with Hani Hanjour, is seen in a photo from a video surveillance camera, using an ATM machine on Sept. 5 in Laurel, Maryland."

"The FBI believes he may also have lived in Fort Lee, N.J., and Wayne, N.J. He was in the group that worked out at Gold's Gym in Greenbelt, Md., the week before the attacks and on Sept. 1, stayed at the Pin Del motel in Laurel, Md., signing the register with a New York address and driver's license. "

"Based on an eyewitness identification, investigators believe Atta was one of a group of five men holed up in the Valencia Hotel in Laurel, Md., in August and September, driving an older model Toyota Corolla with California license plates. "

"According to motel records, a man by that name used a credit card to pay for a late August stay at the Pin Del motel in Laurel, Md., where Nawaq Alhamzi stayed in September. Jarrah gave a Florida address and driver's license number when he registered at the motel."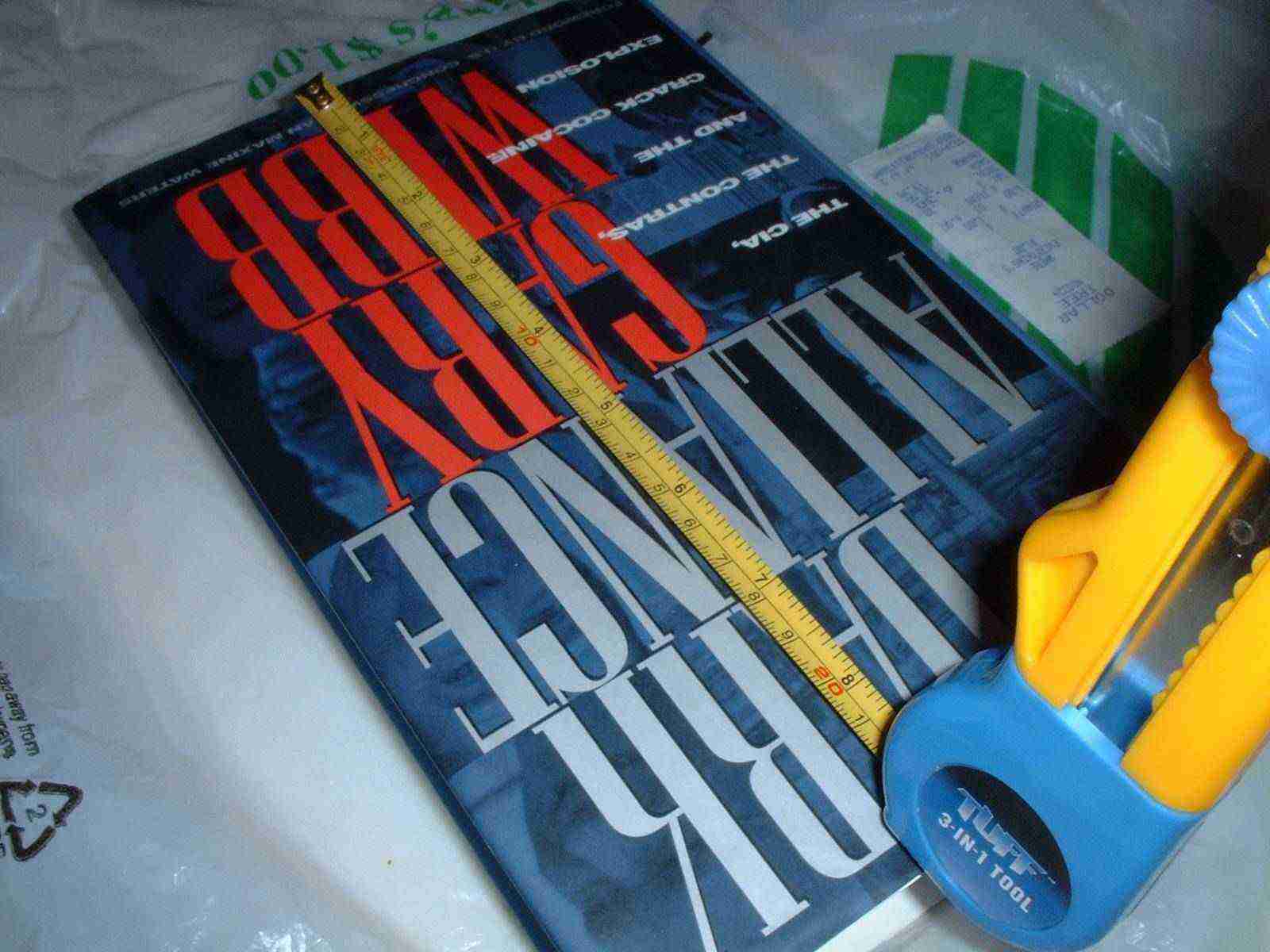 2.) A Washington Post link titled "Dulles Hijackers Made Maryland Their Base " had the following information:

"The FBI stormed into Laurel, Bowie and Greenbelt in force over the weekend, well after their counterparts investigating the two hijacked planes that crashed into the World Trade Center had hit pay dirt in Boston and Florida. But now suburban Maryland has become a major focus of the investigation. Teams of agents are visiting and revisiting hotels, gyms, stores and apartment complexes along the Route 1 corridor." [Can I just make a comment here? I've had an interstate stalker for years, and I've never known of any FBI agents who'd get up off of their butts, much less "storm" anything. Just look at how useful they were in the Chandra Levy case. I'd be surprised if one FBI agent actually made it into Laurel, unless he or she lives there.]

"'They've got us running everywhere,' one agent said yesterday as he left a Laurel motel. [Nice grammar. Um, another comment: How would a reporter know the person leaving a motel was an FBI agent, and furthermore, why did the reporter show up at the motel looking for one? Even if the reporter was tipped off, how did he manage to get there before questioning was over?] Peter A. Gulotta Jr., the spokesman for the Baltimore FBI field office, declined to comment on the investigation and the FBI's heavy presence in Prince George's and Howard counties." ...

"Laurel police spokesman Jim Collins said news of the hijackers' mere presence had come as a shock. 'It's floored us that something like this could happen here,' he said. 'You might have passed them on the street or seen them in the shopping center, maybe even waved to them.'

"Collins said he did not know why the hijackers chose suburban Maryland in the days before they boarded American Airlines Flight 77 at Dulles International Airport and flew it into the Pentagon. In fact, FBI agents seeking traces of them initially questioned dozens of hotel managers in Northern Virginia near Dulles.

"But the FBI's attention may have been drawn to Laurel because of a Muslim cleric who has been linked to Osama bin Laden, believed by many to be the force behind the four hijackings. Agents have been showing photographs of the hijackers to residents of the Laurel apartment complex that is home to Moataz Al-Hallak, who teaches at a local Islamic school and testified three times before a grand jury investigating bin Laden and the 1998 bombings of the U.S. embassies in Kenya and Tanzania."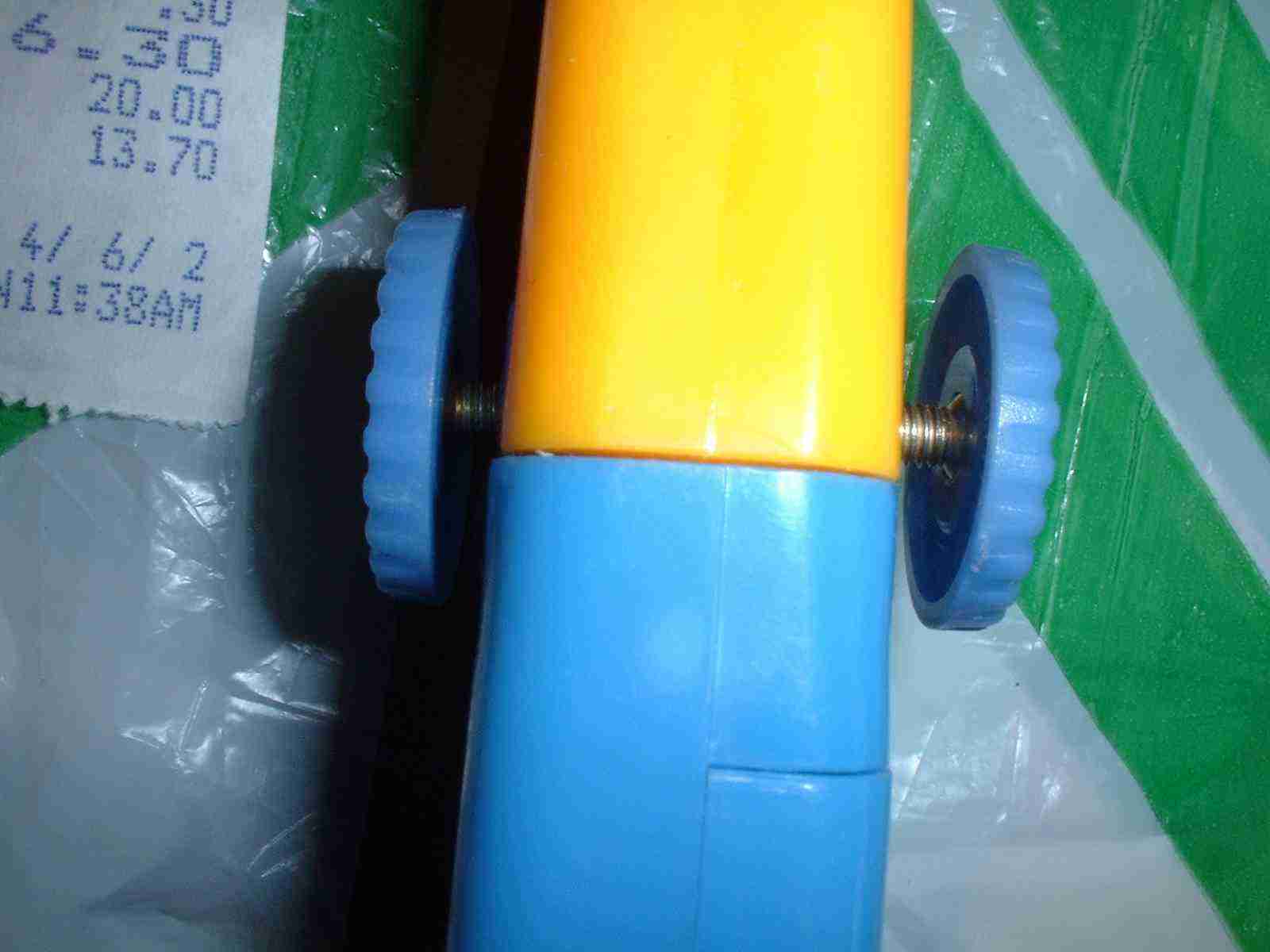 "At least six of the hijackers, though, were seen in Laurel, Bowie, Greenbelt and Beltsville. Among them were Hanjour, Majed Moqed, Khalid Al-Midhar, Nawaq Alhamzi and Salem Alhamzi, who all boarded at Dulles.

"Motel records also show an August visit to Laurel by Ziad Jarrahi, believed to have been the pilot on United Airlines Flight 93, which was hijacked from Newark and crashed in a field in Pennsylvania. The FBI also is investigating whether Mohamed Atta, one of the terrorists aboard the American Airlines flight that hit the first World Trade Center tower, was in Maryland in the days before the attack."

"Much of the investigation centers on the Valencia Motel on Route 1 in Laurel and the stores nearby, where residents and shopkeepers say they have recognized several of the hijackers' photographs or found their names in business records.

"Motel manager Rakesh C. Shah said FBI agents came to his 80-bedroom establishment Friday morning, twice on Saturday, and again Monday and yesterday. They showed him and front desk clerks more than a dozen photographs and names and inspected the records. Agents quickly zeroed in on Room 343, a suite that has a bedroom, a kitchen and a living area. Shah said two men rented the room for one week and paid $308 using a credit card.

"'I remember they stayed for a week. I saw that amount on a credit slip', Shah said.

"Shah said that he does not remember the names of the people in Room 343 and that the FBI has taken all his records. The room had been rented to another customer by the time agents arrived.

"Long-term residents of the motel's apartments said they clearly remember a larger group of men who entered and left Room 343 together, speaking mostly in a foreign language and keeping to themselves. Several residents said they recognized the men in photographs proffered by the FBI.

"Gail North, a resident who until recently also worked as a housekeeper, said the men would not allow her to enter the room and change the towels. Instead, they passed the dirty ones through a barely open door and took new ones in exchange. She believes the men left Sept. 10, the day before the hijacking."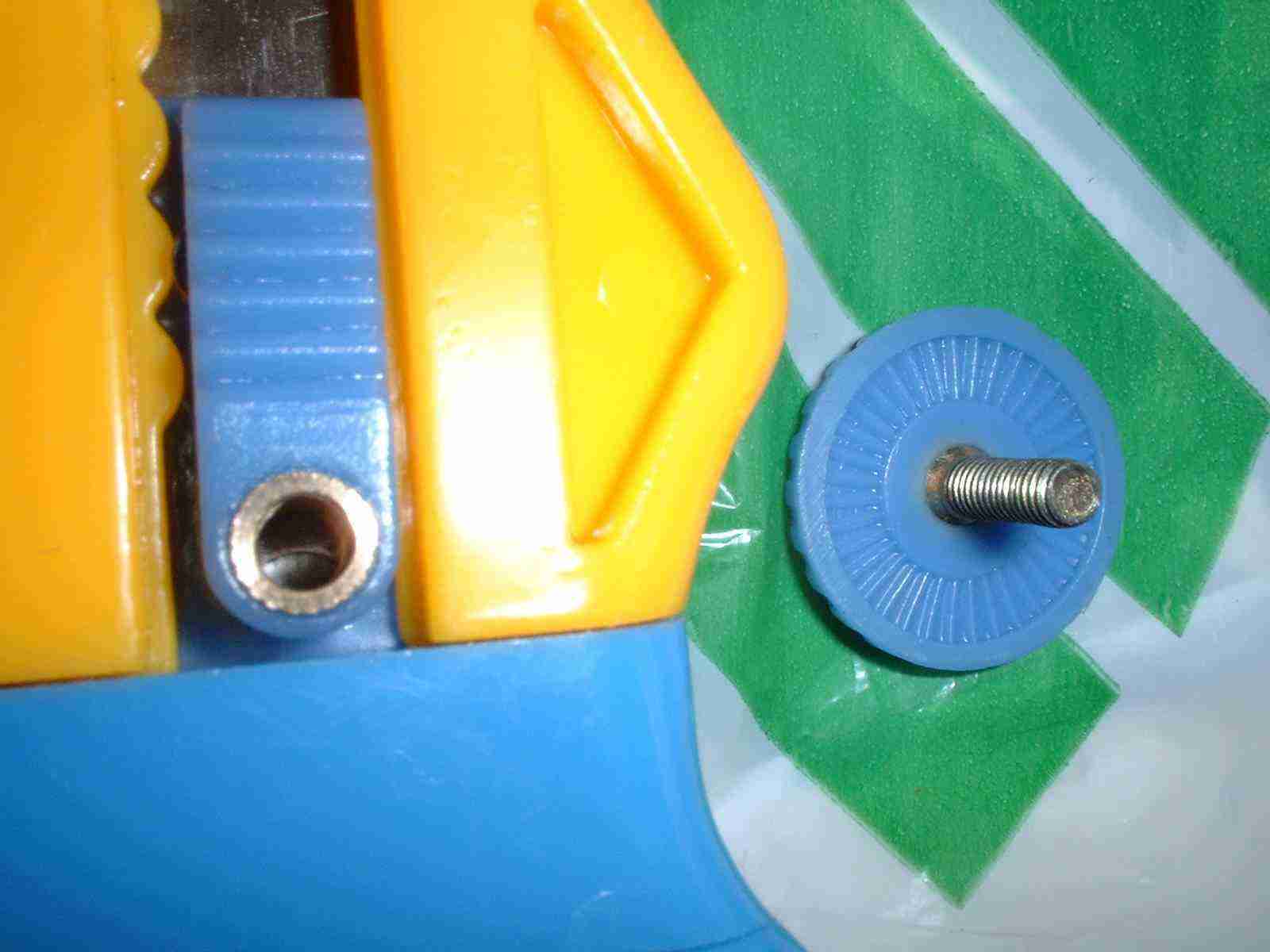 3.) The personal page of a woman who lives in the area verified that the hotels allegedly used by the hijackers were near the Laurel Mall:

"Some of the terrorists had rented rooms at the Valencia Hotel and Pin-Del Motel that are both located on Route 1 in Laurel. I think they are a couple of those numerous cheap-looking hotels and motels that I've seen before that tend to dot Route 1 just north of Laurel Mall (the very same shopping mall where I had purchased a few of my Furbys and Robo-Chi Pets in the past)."

4.) There are a number of other pages making references to the hijackers' stay in Laurel. A Los Angeles Times story mentions

"Five men identified as the hijackers of the plane that slammed into the Pentagon also worked out in the week before the attacks. While living in a rundown motel on the outskirts of suburban Laurel, Md., they showed up in various groupings every day from Sept. 2-6 at a nearby Gold's Gym. Three of them--Khalid Al-Midhar, Majed Moqed and Hani Hanjour-- paid $30 in cash for a weeklong membership, while two others--Salem Alhamzi and Nawaq Alhamzi--paid $10 for each visit."

Again, I doubt that any part of the 3-in-1 Tool story is true. However, I'm always open to new information, so write me at pam@veggiecooking.com if you have anything interesting. By the way, I delete e-mails with attachments unless I personally know the sender! So no attachments please!


Back to the top

&copy 2002 by Pam Rotella.

Banner's photographs, left to right:
1-2.) The Mena, Arkansas airport sure looks busy for a town of less than 6,000, and this picture shows only a small part of the action, August 2002; 3.) Gary Webb's book is one of several documenting government cocaine trafficking through that airport; 4.) Artwork at Garrett Creek Ranch in Paradise, Texas - site of a Jim Marrs conference August 2002.


Back to the main page